New Product Launch: Passion To Profits – Simply Life Changing
|
It's finally here and launched! After months of putting it together and creating each video,
"Passion To Profits" is ready for download.  Go Here To See All The Nitty Gritty Details.
The best way I can describe it is, a "30 Day Program" to help the unemployed, the worker who is miserable and unhappy, at their current work place. If this fits you in this category, then, this program will benefit you!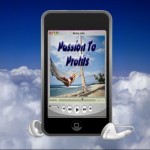 Here's What Inside:
1) 3 Personality And Career Assessment Tests
2) How To Turn Your Passions Into A Tangible Product
3) How Much Money You Can Make Doing Your Passions.
4) Setting Up A Home Business For Your Operation.
5) Marketing Your Passions For Others To Consume.
6) How To Increase Your Customer Base And Add More Benefited Products.
Plus, so much more. Get It Now Here For Free While It Lasts!
There's Nothing You Can't Do And Make Money At It!